Categories
Full Bloom (2 Book Set) Signed by Gaetan Bloom & Kevin James - Book
Out of Stock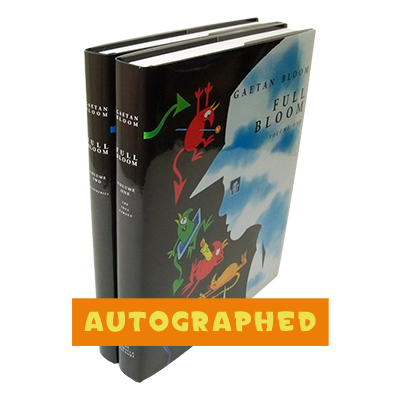 Limited quantity autographed by Gaetan Bloom. Don't miss out! Full Bloom By Gaetan Bloom A 2 volume set that takes a unique look into the fertile mind of Gaetan Bloom. These books have been years in the making and will have its world wide release at
Limited quantity autographed by Gaetan Bloom. Don't miss out!

Full Bloom By Gaetan Bloom

A 2 volume set that takes a unique look into the fertile mind of Gaetan Bloom. These books have been years in the making and will have its world wide release at 7pm on August 11, 2013 at MAGIC Live in Las Vegas, Nevada. Guaranteed to be a modern classic.
Two huge volumes
Over 150 effects
Stage magic, close-up, illusions, cabaret and mentalism
Free-standing display mysteries
Hundreds of beautiful James Hodges drawings
Historic photos of Gaetan and many great magicians
Includes Bloom's marketed effects and scarce magazine routines
All of Gaetan's lecture notes
Many new previously unpublished effects
Rare material on Winston Freer Top-quality satin-finish acid-free paper, Smyth-sewn and hardbound with beautiful full-color dust jackets
"The material is absolutely sensational as is the design and production. It is an absolute modern classic."
- Andy Nyman
Product Videos:
Copyright ©1994-2011 Pro-Magic Inc